Fish Tank WIFI HTTP Server
Fish tank video
Note: There is only fish tank with shrimps and fishes, not the project itself… 😉
---
Related Posts
Battery Powered ESP8266 IoT – Temperature Sensor
Since my latest ESP8266 temperature humidity IoT logger project is up and running I have decided to cut the last wire – power. There are more approaches how to make ESP8266 running on a battery,[…]
Continue reading ...
I was inspired by several DIY projects. The ESP8266 WiFi 802.11 b/g/n Module is a self contained SOC with integrated TCP/IP protocol stack that can give any microcontroller access to your WiFi network. The ESP8266[…]
Continue reading ...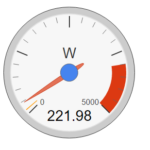 My new project consists of HW with cost under 20€. It is able to accurately measure electric power consumption and sends data via WiFi. Great source of knowledge is openenergymonitor.org which includes also Arduino library.
Continue reading ...